Six Summit Gallery Grand Salon, Westbrook, CT / "The Lost Warhol". Collaboration "Andy & Blue Rose" / Exclusively at Six Summit Gallery.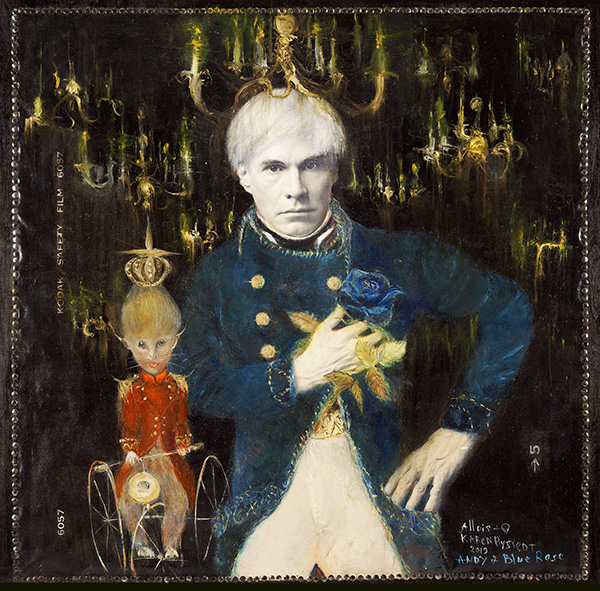 Andy & Blue Rose, oil on canvas, 48″ x 36″, framed
Andy and Blue Rose.  When the party's over, an after-party begins! only the strongest allowed into the best part of the night, when you can drop your mask at the door, relax your grip on reality, and maybe even be yourself for a little while… What was the name of a man who invented this twilight zone, when Art and Life and Dreams intersect? He called them "The Happenings". Tonight, by listening to Miles and Black Star, or maybe by watching some Jarmusch, we must have revived the spirit of The Happening. All of a sudden the air was electrified with a whiff of something childish and unusual.
He arrived, and He was not alone! Andy was dressed in blue velvet jacket, he held a Blue Rose was in his hand. Next to him there was a monkey creature on a rover. It was sensational, for a second, I thought that someone must have spiced our drinks or we are under a collective hypnosis session. Monkey Creature introduced himself: "My name is Kinamisho, I am a Japanese monkey-samurai. Andy came to your party dressed as a ghost, and I am his bodyguard!"
We understood that Andy is playing with us and we let our grip on reality go. Andy didn't say anything but we understood him perfectly.  It was unforgettable! I keep dry blue rose at my studio. (Allois & Jörge)
Story will be published in FK ( Floating Kingdom).