Biography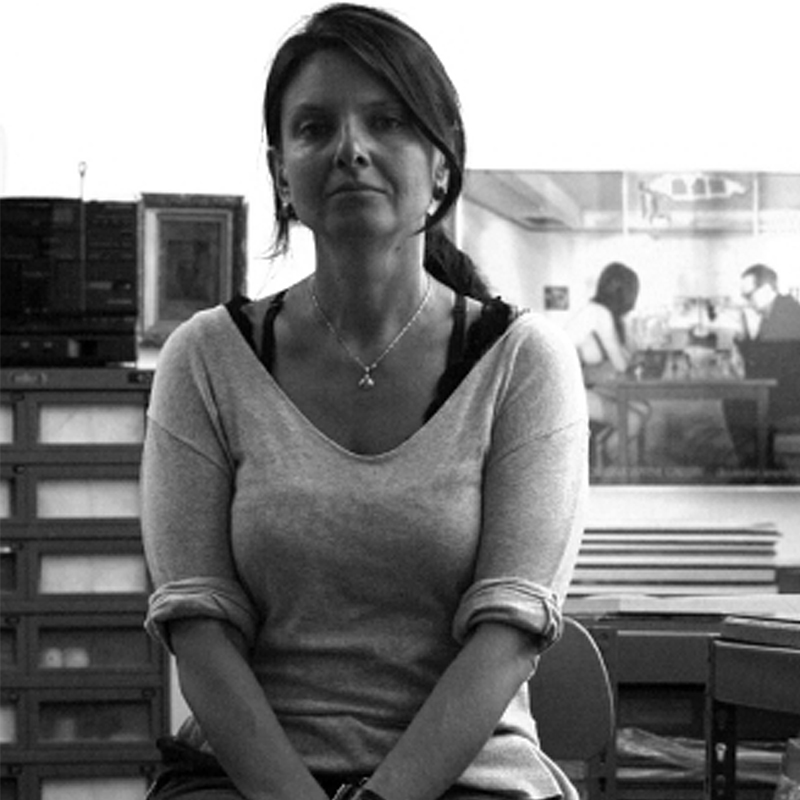 My work combines untamed energy of the open sea and disturbing familiarity of alien entities. 
ALLOIS 
Allois work deals with dislocation and estrangement, at times employing decidedly cute characters in innocently grotesque or strange situations. Allois' paintings portray characters that visually embody states of mind, from the mischievous to the manic.
The occult and metaphysical themes recurring in the work call to mind the universally recognizable issue of the unknown origins of the soul, and the pre-linguistic mind. Disproportionate, malformed creatures inhabit barren landscapes, where our attention is refocused on the interrelations between characters. The figures seem alien or fantastical, but at the same time they are highly relate-able.  The figures evoke raw emotions in the audience by being vague to the visual senses but obvious to the spirit.
Bleicher/Golightly Gallery
ABOUT ALLOIS

Born in Lutherstad Wittenberg, Germany 1969.
Raised in Wittenberg, Germany and Legnica, Poland 1969-1989
Education: National Academy of Art, Ukraine, 1993.
Lives and works in Los Angeles, USA.

SOLO EXHIBITIONS

2017 – Art Hearts Fashion 2017, Beverly Hills, Los Angeles, March 14 – 17
2017 - CASA Wine + Art/ Auction February 25th
2017 - LA ART SHOW, presented by bG Gallery, Los Angeles
2016 – LA ART SHOW, presented by bG Gallery, Los Angeles
2015 – 'No Particular Night or Morning' Nov. 14 -December 9, bG Gallery, Santa Monica
2015 – LA ART SHOW, presented by bG Gallery, Los Angeles
2013 – LA ART SHOW, Project Space, presented by BG Gallery, Santa Monica
2012 – LA ART SHOW, Project Space, presented by BG Gallery,  Santa Monica
2012 – Jean Marc Gallery, Los Angeles
2012 – Bleicher/Golightly Gallery, Los Angeles
2011 – Jean Marc Gallery, Los Angeles
2011 - Bleicher/Golightly Gallery, Santa Monica
2011 – Rebecca Molayem Gallery, Los Angeles
2010 – Jean Marc Gallery, Los Angeles
2010 – Bleicher/Golightly Gallery, Santa Monica
2010 – Bleicher Gallery, Los Angeles
2010 – Canvas Gallery, Malibu, CA
2009 – Icosahedron Gallerie, New York
2008 – Hangar Gallery, Santa Monica
2008 – Attleboro Arts Museum, Attleboro, MA
2008 – Icosahedron Gallerie, New York
2007 – Montserrat Gallery, New York
2007 – Nancy MargolisGalery, New York
2007 – Icosahedron Gallerie, New York
2007 – Lev Moross Gallery, Los Angeles
2006 – Montserrat Gallery, New York
2006 – Lev Moross Gallery, Los Angeles
2005 – Lev Moross Gallery, Los Angeles
2004 – Lev Moross Gallery, Los Angeles

GROUP EXHIBITIONS

2017 – bG Gallery, Los Angeles
2016 – bG Gallery, Los Angeles
2016 – 'Out of There' LAAA 825 Gallery, West Holywood
2015 - Bleicher/Golightly Gallery, Santa Monica

2014 – Bleicher/Golightly Gallery, Santa Monica

2013 - Bleicher/Golightly Gallery, Santa Monica

2012 -

Bleicher/Golightly Gallery, Santa Monica

2011 - Bleicher/Golightly Gallery, Santa Monica

2010 – Bleicher/Golightly Gallery, Santa Monica
2007 – James Gray Gallery, Santa Monica
2007 – Montserrat Gallery, New York
2006 – Lev Moross Gallery, Los Angeles
2006 – Montserrat Gallery, New York
2005 – Lev Moross Gallery, Los Angeles
2005 – "Life in Contrast," Pacific Design Center, Los Angeles
2004 – "Unity & Diversity 2," Pacific Design Center, Los Angeles
2003 – "Unity & Diversity 1," Pacific Design Center, Los Angeles

PROJECTS

Fine Art Novel "THE BLACK GONDOLIER" by Fritz Leiber.
Fine Art Novel "THE FALL OF THE HOUSE OF USHER/USHER II" by Ray Bradbury and Edgar Allan Poe, illustrated by Allois
Animation "THE BLACK GONDOLIER" by MTV.

PUBLICATIONS

Fine Art Novel "THE FALL OF THE HOUSE OF USHER/USHER II" by Ray Bradbury and Edgar Allan Poe, illustrated by Allois, Gauntlet Press 2010
MIDLIFE DRAMA by Irit Kedem, Publishing House of General Union of Writers in Israel 2008 (Cover Illustration by Allois)
ART News, September 2005
Artist Interviews Magazine 2005
Malibu News February 12 2004
Artis Spectrum vol.12 2004
REPRESENTATION:
bG Gallery Bergamot Station
2525 Michigan Avenue
Space G8A
Santa Monica, CA 90404
map
T: 310-906-4211
info@bgartdealings.com