Biography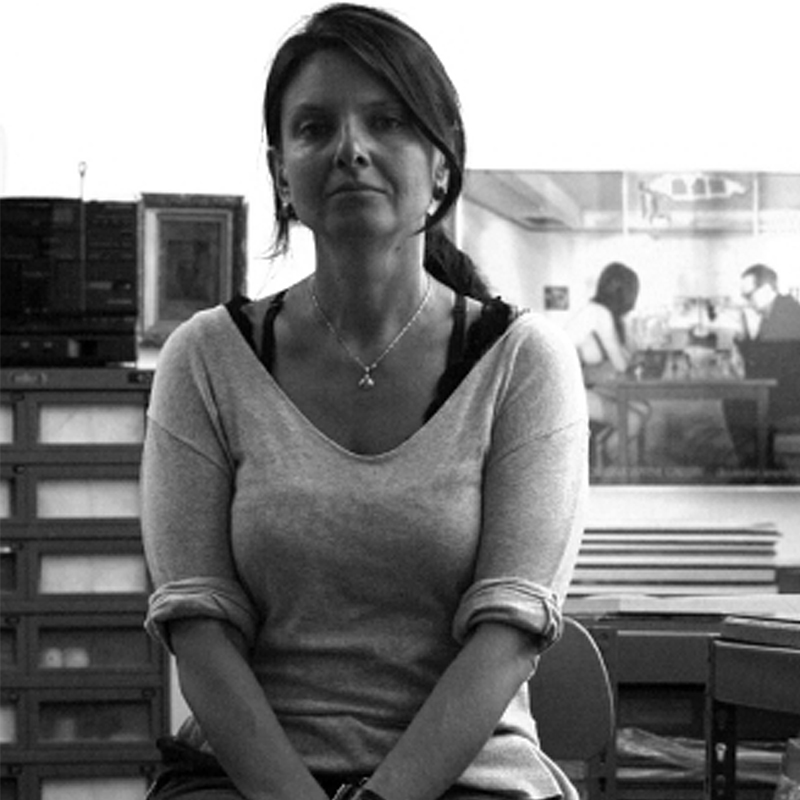 My work combines untamed energy of the open sea and disturbing familiarity of alien entities. 
BLUE CHIP ARTIST ALLOIS
Find Me On Instagram @Allois7 "Allois' list of collectors include Hollywood luminaries such as Joss Whedon, Clare Grant and Seth Green, Joanna Cassidy, Dorsay Alavi and Matthew Flint" Hollywood Weekly, March 2018
In 2019 Allois received grant from prestigious Pollock Krasner Foundation.
In 2019 Allois received an award  in category Painting- Professional from London International Creative Competition.
In 2018 Allois received Gil Borgos award from the City of Beverly Hills.
POST INDUSTRIAL RENAISSANCE  
ALLOIS 
Allois work deals with dislocation and estrangement, at times employing decidedly cute characters in innocently grotesque or strange situations. Allois' paintings portray characters that visually embody states of mind, from the mischievous to the manic.
The occult and metaphysical themes recurring in the work call to mind the universally recognizable issue of the unknown origins of the soul, and the pre-linguistic mind. Disproportionate, malformed creatures inhabit barren landscapes, where our attention is refocused on the interrelations between characters. The figures seem alien or fantastical, but at the same time they are highly relate-able.  The figures evoke raw emotions in the audience by being vague to the visual senses but obvious to the spirit.
Bleicher/Golightly Gallery
"Allois paints presences. Her figures manifest conditions, sliding away from personality and into mood. A particular character may present itself as a child or adult, man or beast, but its identity gives way almost immediately to its nuance. These figures, then, are others and at the same time are us. They don't simply constitute Allois' cast of characters; they stand in for any of us. The yogic construct of the soul is as a tiny homunculus seated or curled at the base of the heart. This must be the homunculus with whom, in many variations, Allois populates her canvases".
Peter Frank, American art critic, curator, and editor based in Los Angeles, where he serves as Associate Editor for Fabrik Magazine. Over his nearly 50-year career New York-born Frank has edited several art magazines, written for many more, and organized exhibitions all over the world.
"I think her phenomenal work is a unique combination of the future and the past," Jacqueline "Jac" Forbes, curator and owner of Malibu's Canvas Gallery, said, commenting about the intriguing and inspirational art work of Malibu artist Allois. "It blends the delicate beauty of the past and the uncertainty of what the future will bring and what people will look like. It's great work to get lost in."
Malibu Chronicle, "Malibu Artist Allois Paints Visionary Atavistic Intrigue and Mystique"/ Mar 29, 2017, Article by Barbara Burke
ABOUT ALLOIS

Born in Lutherstad Wittenberg, Germany 1969.
Raised in Wittenberg, Germany and Legnica, Poland 1969-1989
Education: National Academy of Art, Ukraine, 1993.
Lives and works in Los Angeles, USA.

Selected Solo and Group Exhibitions

2019 Nude Art LA, Cooper Design Space, Los Angeles, March 29 – 30
2019 LA Fashion Week, VIP show, March 21 – 242019 Palm Springs Modernism, Flower & Hewes gallery, Santa Monica, California, February 14 – 18

2019 "Style Art" Woody Michleb Salon, Six Summit Gallery, Palm Beach, January 7 – February 27

2019 24rd Annual Los Angeles Art Show, bG Gallery Bergamot Station – Santa Monica, California, January 23 – 272018 "Flying Dutchman" curated by Six Summit Gallery at Copper Beech Inn, May 13 – November 13, 2018

2018 "Stranger Than Fiction" by bG Gallery, April 15 – May 15

2018 LA Fashion Week, VIP show, March 12 -16

2018 23rd Annual Los Angeles Art Show, bG Gallery Bergamot Station – Santa Monica, California

2017 Solo Show "Nothing but Dreaming" at bG Gallery, November 18 – December 13

2017 LAAA Annual Benefit Auction

2017 CASA Wine + Art/ Auction February 25th

2017 Art Hearts Fashion 2017, Beverly Hills, Los Angeles, March 14 – 17

2017 22nd Annual Los Angeles Art Show, bG Gallery Bergamot Station-Santa Monica, California, LA Convention Center, Los Angeles, California LA ART SHOW, presented by bG Gallery, Los Angeles

2016 21st Annual Los Angeles Art Show, bG Gallery Bergamot Station-Santa Monica, California, LA Convention Center, Los Angeles, California LA ART SHOW, presented by bG Gallery, Los Angeles

2016 LAAA Annual Benefit Auction

2016 bG Gallery Bergamot Station, "Multiworlds", Santa Monica, California

2016 bG Gallery Bergamot Station, "Grayscale Wonderland II", Santa Monica, California

2016 bG Gallery Bergamot Station, "Summer Group Exhibition", Santa Monica, California

2015-16 bG Gallery Bergamot Station, "Gifted", Santa Monica, California

2015 20th Annual Los Angeles Art Show, bG Gallery Bergamot Station-Santa Monica, California, LA Convention Center, Los Angeles, California

2015 – Solo Show 'No Particular Night or Morning' Nov. 14 -December 9, bG Gallery, Santa Monica

2015 bG Gallery Bergamot Station, "144", Santa Monica, California

2014 Schomburg Gallery, "Poetry in Colors", MAA Juried Exhibition, Santa Monica, California

2014 bG Gallery Bergamot Station, "Spectrum-Gestalt", Santa Monica, California

2014 bG Gallery (Bleicher/Golightly/Gorman) – Ocean Avenue, "Orgone Accumulators", Santa Monica California

2014 19th Annual Los Angeles Art Show, bG Gallery Bergamot Station-Santa Monica, California, LA Convention Center, Los Angeles, California

2013-2014 bG Gallery (Bleicher/Golightly/Gorman), "From Big Things, Little Things Grow", Santa Monica, California

2013 Schomburg Gallery at Bergamot Station, "Winter Spirit", MAA Juried Exhibition, Santa Monica, California

2013 18th Annual Los Angeles Art Show, Project Space, bG Gallery Bergamot Station-Santa Monica, California, LA Convention Center, Los Angeles, California

2013 bG Gallery (Bleicher/Golightly/Gorman), "Objectified II", Santa Monica, California

2013 Schomburg Gallery at Bergamot Station, "Still Life and Beyond", MAA Juried Group Exhibition, Santa Monica, California

2013 bG Gallery (Bleicher/Golightly/Gorman), "Winter Tides", Santa Monica, California

2012 Bleicher/Golightly Gallery, "Play Space", Santa Monica, California

2012 17th Annual Los Angeles Art Show, Project Space, bG Gallery Bergamot Station-Santa Monica, California, LA Convention Center, Los Angeles, California

2012 Bleicher/Golightly Gallery, "Play Space", Santa Monica, California

2012 – Solo Show, Jean Marc Gallery, Los Angeles

2012 Bleicher Gallery La Brea Anniversary Exhibition, Los Angeles, California

2012 Bleicher Gallery La Brea, "Print x Print", Los Angeles, California

2012 Bleicher/Golightly Gallery, "Sound Works", Santa Monica, California

2012 Schomburg Gallery at Bergamot Station, "Enchanted Spaces", MAA Juried Exhibition, Santa Monica, California

2011 Bleicher Gallery La Brea, "Soft Machine UT", Los Angeles, California

2011 Bleicher/Golightly and Hamilton Galleries, "Animal Magnetism", Santa Monica, California

2011 Solo Show, Jean Marc Gallery, Los Angeles

2011 Bleicher/Golightly Gallery, "Scapes I", Santa Monica, California

2011 – Solo Show, Rebecca Molayem Gallery, Los Angeles

2010 – Solo Show, Jean Marc Gallery, Los Angeles

2010 – Bleicher/Golightly Galler

2010 – Bleicher Gallery, Los Angeles

2010 – Solo Show, Canvas Gallery, Malibu, CA

2009 – Solo Show, Icosahedron Gallerie, New York

2008 – Solo Show, Hangar Gallery, Santa Monica

2008 – Solo Show, Attleboro Arts Museum, Attleboro, MA

2008 – Solo Show, Icosahedron Gallerie, New York

2007 – Solo Show, Montserrat Gallery, New York

2007 – Nancy MargolisGalery, New York

2007 – Solo Show, Icosahedron Gallerie, New York

2007 – Solo Show, Lev Moross Gallery, Los Angeles

2007 – Solo Show, James Gray Gallery, Santa Monica

2006 – Solo Show, Lev Moross Gallery, Los Angeles

2005 – Solo Show, Lev Moross Gallery, Los Angeles

2005 – "Life in Contrast," Pacific Design Center, Los Angeles

2005 – Solo Show, Montserrat Gallery, New York

2004 – "Unity & Diversity 2," Pacific Design Center, Los Angeles

2003 – "Unity & Diversity 1," Pacific Design Center, Los Angeles

 

PROJECTS

Fine Art Novel "THE BLACK GONDOLIER" by Fritz Leiber.
Fine Art Novel "THE FALL OF THE HOUSE OF USHER/USHER II" by Ray Bradbury and Edgar Allan Poe, illustrated by Allois
Animation "THE BLACK GONDOLIER" by MTV.

PUBLICATIONS

Fine Art Novel "THE FALL OF THE HOUSE OF USHER/USHER II" by Ray Bradbury and Edgar Allan Poe, illustrated by Allois, Gauntlet Press 2010
MIDLIFE DRAMA by Irit Kedem, Publishing House of General Union of Writers in Israel 2008 (Cover Illustration by Allois)
Malibu Times, November 24, 2017, week's People section
Malibu Surfside News, February 1, 2017 "A creative wonderland"
Malibu Surfside News, November 23, 2016 "Come a little closer"
Malibu Times, July 28, 2016, week's People section
Malibu Times, February 4, 2016, week's People section
Malibu Surfside News, November 23, 2016 "Inspiration abounds at Malibu's Flower & Hewes"
Malibu Times, November 5, 2015, week's People section
2015 ART News, September 2005
Artist Interviews Magazine 2005
Malibu News February 12 2004, week's People section
Artis Spectrum vol.12 2004
REPRESENTATION:
bG Gallery Bergamot Station
2525 Michigan Avenue
Space G8A
Santa Monica, CA 90404
map
T: 310-906-4211
info@bgartdealings.com
Brekelle Lavee' Long (Art Dealer, Miami, USA)
Ph: 786-296-5655
www.flowerandhewes.com
Leo Feroleto (Art Dealer, New York, USA)
Ph: 917-573-0029
www.sixsummitgallery.com
Jingjing Shi ( Art Dealer, Beijing, China)
Ph: +86 18518657776