Empress Collection: Empress, 2017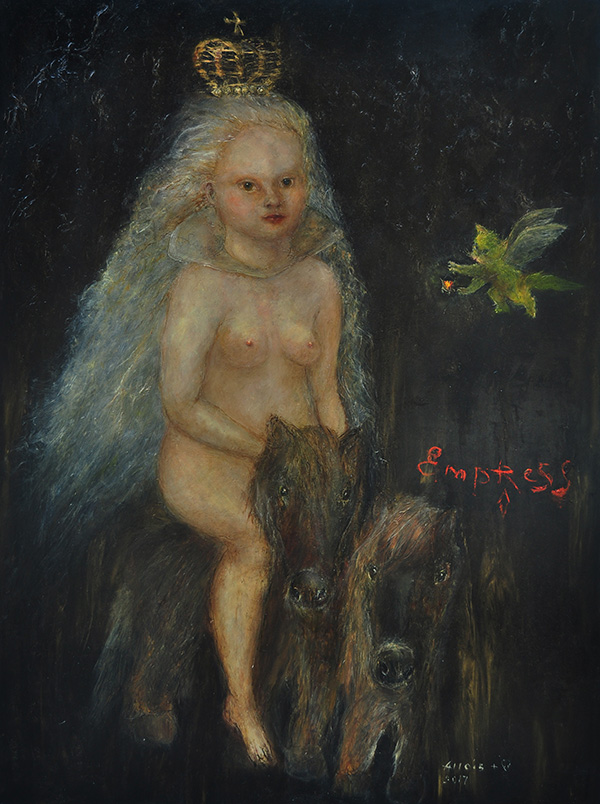 Oil on gesso panel, 48 x 36 x 2 in
Virginia / Blue Dream, Permanent collection of Virginia Argueta, Miss Universe Guatemala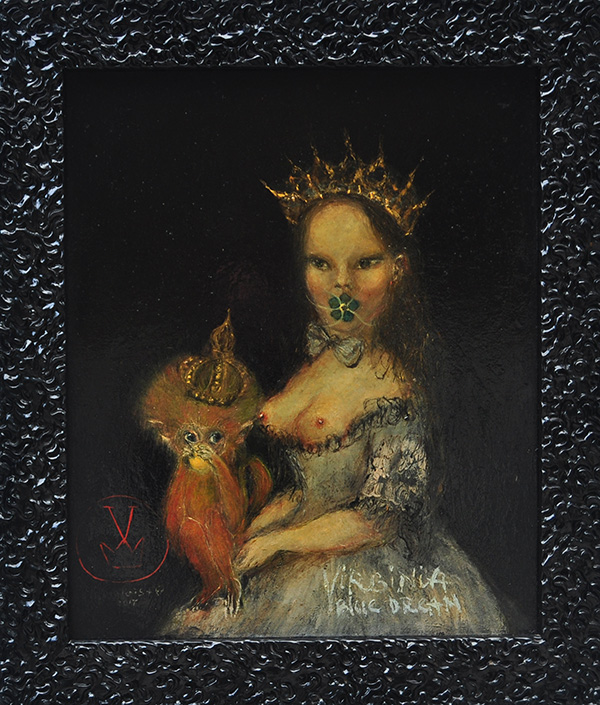 SOLD
 Oil on canvas, 30″ x 28″, framed, private collection
The story  behind the painting:
"The day I was crowned I had a visitor. Sir Gustav IV approached me during after-party festivities and informed My Royal Highness that it is his duty to lead me to my new Kingdom. Place looked neat enough, I agreed. Great honors come with great responsibilities, my Royal duty is to keep The Secret of the Floating Kingdom. There exists a blue  Edelweiss, this flower connects our two worlds. Blue Edelweiss is a symbol of my silence when I am here… "(Allois & Jörge)
 Olive & Laila 2, Permanent Collection of Joanna Cassidy
SOLD
 The story behind the painting:
My name is Leila, Olive is my butler. He is also my tutor, my confidante and, above all, he is my hair stylist. As a woman, I carry all my memories with me, these memories are intertwined between the curls of my golden hair. Some memories are dear to me, some other pain me a lot. Every night Olive brushes my hair with his magic comb and makes all the ugly memories hide and wrinkles disappear. To make this magic work we both must wear our medallions, they provide paramagical connection between Olive and me during the ritual. These necklaces were custom ordered by Olive from Locus Graham IV, jewelry designer employed by Empress Laila. In our Floating Kingdom such luxuries do not come free, and Olive had to pay dearly to acquire them. Being a true Gentleman, he never told me how many of his nine lives he had to forfeit to keep me young and happy. I know that Olive loves me.
P.S. Medallion design was inspired by Loree Rodkin jewelry. Medallions have moonstone center with black & white diamonds set in rose gold. (Allois and Jörge)
 Olive & Laila 2, Permanent Collection of Clare Grant & Seth Green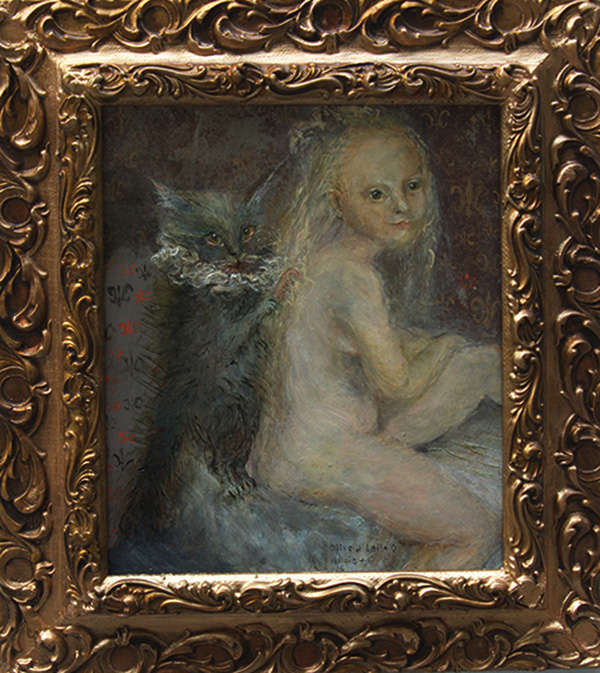 SOLD
Oil on oxidized steel, 19″ x 18″, private collection,  sold during LA Art Show 2017
The story behind the painting:
My name is Leila, Olive is my butler. He is also my tutor, my confidante and, above all, he is my hair stylist. As a woman, I carry all my memories with me, these memories are intertwined between the curls of my golden hair. Some memories are dear to me, while others pain me a lot. Every night Olive brushes my hair with his magic comb and makes all the ugly memories hide and disappear. This is our little secret of my eternal youth.  (Allois and Jörge)
 Margo, 2016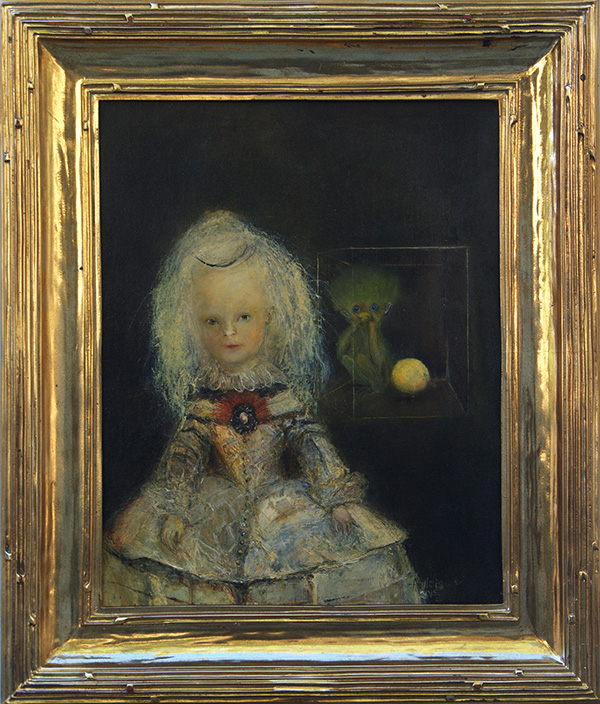 SOLD
Oil on canvas, 20″ x 16″, framed, private collection
The story  behind the painting:
My name is Margo, I am the Collector. I collect dreams. Not every dreams but only the most precious ones: my own.  My collection is very large because I am infinitely old.  Unlike those who forget, or lose or even betray their dreams, I keep my dreams safe and vivid and sometimes I even make them real. Collection of my childhood dreams protects me when I am getting sad or lonely. That is why I am still a little girl.  (Allois and Jörge)