Malibu Surfside News, April 6, 2020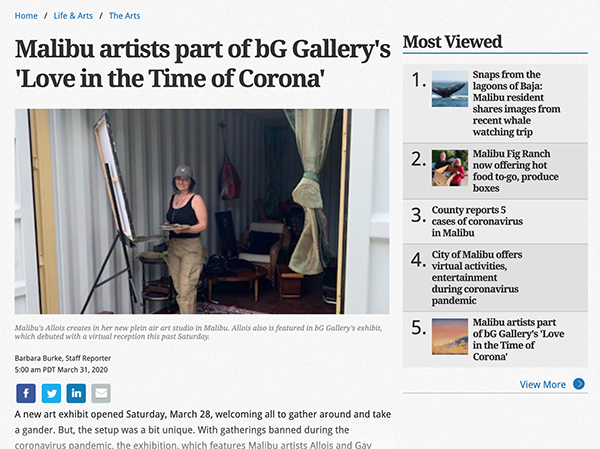 https://www.malibusurfsidenews.com/p/life-arts-arts/malibu-artists-part-bg-gallerys-love-time-corona#comment-23
Barbara Burke, Staff Reporter
5:00 am PDT March 31, 2020
A new art exhibit opened Saturday, March 28, welcoming all to gather around and take a gander.
But, the setup was a bit unique. With gatherings banned during the coronavirus pandemic, the exhibition, which features Malibu artists Allois and Gay Summer Rick, debuted with a virtual opening reception.
"Love in the Time of Corona/A Social Distancing Art Exhibition" was curated by bG Gallery, and the reception was held on the gallery's Instagram live (@bggallery) and on Zoom.
"In this unprecedented time, we are taking initiatives to not only keep all of us safe, but to also keep us engaged and artistically inspired," the gallery's reception invitation said. "So, put on a party dress and grab a glass of wine or get into your PJs with a cup of hot cocoa and join from home as bG brings you a social media — social distancing art opening reception. Kick your shoes off and join our virtual reception while you mingle with other at-home guests and gallery staff and see the art exhibition through bG's streaming platforms."
Allois and Rick are delighted to share their art virtually, seeing great merit to helping Malibuites bide their time while being safer at home. 
Rick is a 20-year Malibu resident who crafts tranquil oil paintings depicting local landscapes, such as "Remembering Yesterday" and "Wish You Were Here," both of which are included in the current exhibit. She finds special meaning in sharing her art virtually at this time.
"I hope that these paintings will transport the viewer to a calm and quiet place," she said.
"​There is a quiet vibration and unexpected beauty in commonplace elements in the urban environment and my work describes this in an atmospheric and dreamlike, yet familiar, manner," Rick added. "So, I could be heading west on The 10 in crazy traffic, or out by Surfrider and the waves are crashing, and there will be a moment, something I see and feel, that I know I have to paint, and at that moment, I can feel the energy and everything around me falls quiet. I take that impression back to my studio and translate that moment using paint on canvas."
Allois' own studio burned down in the Woolsey Fire, and she recently received grants from the Pollock Krasner Foundation in 2019 and from the Joan Mitchell Foundation in 2020.
"I appreciate and am deeply touched by the support and the referrals made on my behalf for getting the grants by bG Gallery, Flower & Hewes Gallery and my New York agent, Leo Feroleto," Allois said.  
Allois and her family decided they will rebuild on their property. In the meantime, she has exciting news. "I decided to create a plein air studio at the land where my house and Allois Art Studio were before the Woolsey Fire," she said. "I installed metal containers for the art supplies and created a space for the painting process and a place where I can meet with my collectors, many of them from Hollywood such as Joss Whedon, Clare Grant and Seth Green, Joanna Cassidy, Dorsay Alavi and Matthew Flint."
Ever prolific, Allois is working on large-scale paintings for an upcoming solo show at bG Gallery.
"Also, I decided to recreate my favorite works that were lost in the fire," she said. "I'll start with my paintings 'Adel' and 'Emperor.'" 
A virtual viewing of the "Love in the Time of Corona" exhibit is available on the gallery's Facebook. Pieces also may be purchased here, with a portion of the art sales proceeds benefiting Meals on Wheels.