Six Summit Gallery Grand Salon, Westbrook, CT / Christopher & Marcel / Exclusively at Six Summit Gallery.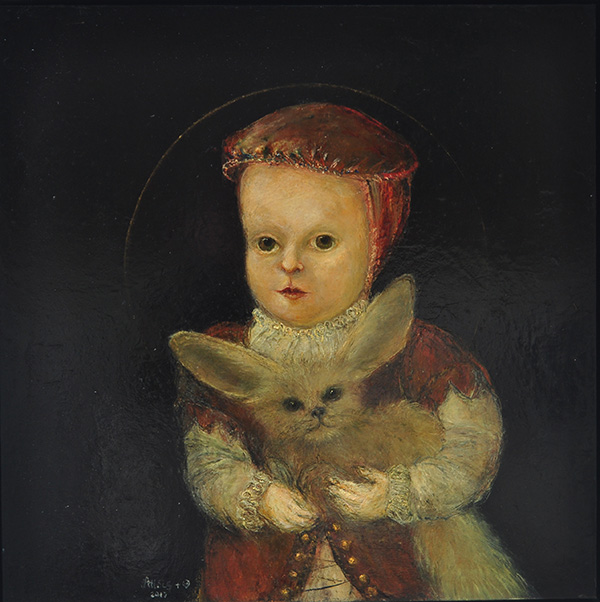 Christopher & Marcel, oil on canvas, 30″ x 30″, framed
Christopher and Marcel.  "My name is Christopher, I think of Marcel as my Guardian Angel. I am not alone in my belief; my father also thinks that Marcel is his Guardian angel. We all know this is not true: Marcel watches over our whole family but he guards only the kids, my sister and me. My great-great-grandmother found Marcel under a Christmas tree in our family home, Château de Tiregand. Marcel has been with my family ever since. Marcel watches over me, he helps me to be good during the whole year, but on Christmas Marcel oversees that Santa Claus is good to me. Marcel is very wise and very powerful, I am very proud of him! Marcel makes sure that my good behavior during the year is rewarded. Every year I am thinking very hard about what I want for Christmas, I want so many things but there will only be one present! Marcel never fails me but on Christmas Eve I am always worried if he knows what I really-really want.  Many wishes but only one present, it will be so much fun tomorrow to see what my best wish really is! Merry Christmas!!!"   (Allois & Jörge)
Story will be published in FK (Floating Kingdom).