Usher and Usher II Book Reviews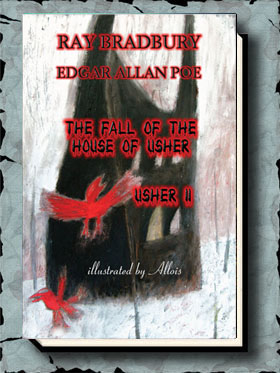 THE FALL OF THE HOUSE OF USHER and USHER II by Edgar Allan Poe and Ray Bradbury, Illustrated by Allois, Gauntlet Publications 2010 (available at gauntletpress.com and amazon.com)
The father of horror combined with the godfather of the fantastic in one beautiful volume in a unique package that should have been done a long time ago.  Thankfully, Barry Hoffman over at Gauntlet has plenty of great ideas and set this up, inviting talented artist Allois to illustrate each scene in both stories.
The oversized book holds the tales in exquisite beauty, the gothic & Dali-esque pictures visualizing the elegance of Poe's writing with the poetic simplicity of Bradbury's everyman's prose in a seamless combination.
For those unfamiliar with the stories, a brief summary.  Roderick Usher lays dying in the mansion on the tarn, hidden in the mountains.  His friend's visit finds him near his last breath with the Usher name ready to die out forever.  With no heirs, only his sister remains to carry on his name – for a short while.  What ensues portrays the architecture for the modern haunted house story, yet this contains no ghosts.  The symbiotic relationship between Usher and his dwelling epitomizes Poe's mastery of language and setting in a manner none have matched since.   Bradbury continues the Usher legacy on Mars in a tale which predates Fahrenheit 451 but lays the groundwork for the novel which tackled censorship and hasn't been matched yet in scope. A jaded writer builds the futuristic mansion where he can live in creative freedom.  However, censorship follows him from Earth and in a nod to "The Cask of Amotillado," deal with the detective.
Plenty can be said about two stories which many know well (or should) or how Allois' artwork stuns in its stark rendering of both authors' images, but it is how all three elements meld together in one of those few collector's packages that is worth the price.
Dave Simms, Horror World Book Reviews
Jan 31, 2011
Here is a true collaboration of master artists in the form of a brilliant and astounding fine art novel available now from Gauntlet press. The preeminent Gothic tale by American writer Edgar Allan Poe has resounded through time as one of the most recognizable stories ever written. Madness and utter desolation unfold in Poe's original tale of psychological horror and, in this stunning volume, the celebrated painter and illustrator, Allois, lends dire gravitas Roderick Usher's downward trajectory with her bizarre and startling images of death and decay. Renowned author Ray Bradbury's retelling of Poe's benchmark tale, "Usher II", was first seen his celebrated Martian Chronicles, wherein the doomed House of Usher rose and fell once more. Allois further intensifies "Usher II" with astounding visuals that elevate the entire volume into an unsettling fine art experience that must be seen to be believed. Each page of this oversized hardback is illustrated in full color, accompanying devastating narratives from two of history's finest writers of fantastic fiction. THE FALL OF THE HOUSE OF USHER and USHER II is not merely a book, my friends; it is an event!

© J.L Comeau, The Tomb of Dark Delights
THE FALL OF THE HOUSE OF USHER and USHER II:

THE FALL OF THE HOUSE OF USHER and USHER II, by Ray Bradbury and Edgar Allan Poe, Illustrated by Allois. Gauntlet (www.gauntletpress.com), 2010, 72 pp., ISBN 1-934267-20-1

Herein contains the classic "house of horror" tale — a veritable banquet of all that is creepy regarding the very atypical haunted house, the classic by Poe, with bled-page illustrations. (Maybe the term, "bleed from the page," would suffice?)

Almost better yet is the homage to Poe's tale by Bradbury, who instills the horror of censorism with a nightmarish look at a future based on his novel, FAHRENHEIT 451. In this case, the tale is set on a colonized and whitewashed Mars – where a very wealthy man actually BUILDS the house Poe created. Only in this case, the house is stocked with robots – until the censors come to disassemble it. But highly creative and motivated projects don't die so easily.

Andrew Andrews (Editor/Publisher)